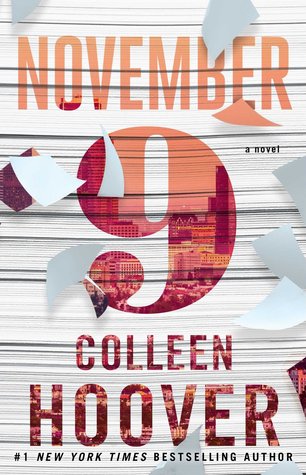 Fallon meets Ben, an aspiring novelist, the day of her scheduled cross-country move. Their untimely attraction leads them to spend Fallon's last day in L.A. together, and her eventful life becomes the creative inspiration Ben has always sought for his novel. Over time and amidst the various relationships and tribulations of their own separate lives, they continue to meet on the same date every year. Until one day Fallon becomes unsure if Ben has been telling her the truth or fabricating a perfect reality for the sake of the ultimate plot twist.
Anyone who has ever read anything by CoHo knows that that lady is gifted. She has a way with words that leaves us wanting more and more and more. It's never enough. She's one of the best romance authors on the block and rightly so. I have never known anyone to write as effortlessly and seamlessly as she does.
I've been a huge fan on her previous novels. So, obviously, I grabbed at first chance to read her latest one. I can safely say that this my best Hoover novel yet.
The story is heartwarming and heartbreaking in all the right parts. She knows when to press and hold and when to let go and it's just beautifully written.
The male lead, Benton James Kessler, or Ben The Writer, as Fallon likes to call him, is absolutely swoon worthy and out of one of the romance novels that Fallon loves to read. He's funny, quirky, sweet and extremely hot. Even though he has troubles pulling off the whole Alpha Male routine, he does immensely well for himself. He just the kind of guy that a girl would look for but never hope of finding.
Fallon O'Neil or Fallon The Transient, as Ben has dubbed her, is equally likeable. She's been through some stuff in her life which has caused her to lose confidence in herself, but it's amazing how much Ben's words and his support change her and help her become the girl she once was. She's smart, headstrong and loving. Her only mistake was thinking too much when she should have used her heart.
Though Ben and Fallon are so great together, they took a long time to get where they got, delayed due to misunderstandings and hasty decisions and deciding what's best without consulting each other. It's what makes them flawed, their characters believable.
Though, the whole concept of only seeing each other once a year with no contact in between and going on with their lives without each other's interference is a bit far fetched, the story in itself is extremely pulsating and beautiful to read.
CoHo does it again in this story. She crushes it with little room for critique, like she always does.
I love her and I love this book and I would recommend all the die hard romantics out there to go and read it.
Let me leave you with some deep words by Ben, about life and love and holding on –
When you find love, you take it. You grab it with both hands and you do everything in your power not to let it go. You can't just walk away from it and expect it to linger until you're ready for it.